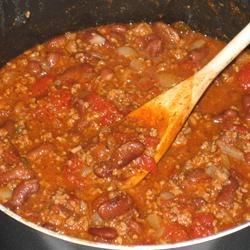 Chili



2 pounds ground beef
1 onion, chopped
4 cloves garlic, minced
1 tablespoons chili powder
2 teaspoons salt
2 teaspoons dried oregano
1 (14.5 ounce) cans stewed tomatoes
1 (14.5 oz) can diced tomatoes
2 can chili beans
1 (15 ounce) can tomato sauce
2(15 ounce) can kidney beans with liquid
Combine ground beef, onion, and garlic in large stockpot. Cook and stir over medium heat until beef is brown. Drain.
Stir in chili powder, salt, oregano, tomatoes, and tomato sauce; break up tomatoes while stirring. Add beans. Heat to boiling, reduce heat to simmer, and cover. Cook, stirring occasionally, for 1 hour.
You can also do this in a crock pot:)
Prefect With:



Fake Cornbread



¾ c butter or margarine
3 eggs
3 ½ c flour
1 c cornmeal
4 t baking powder
1 t salt
1 c sugar
1 ½ t vanilla
2 ¼ c milk
Combine flour, cornmeal, baking powder and salt and set aside. Mix butter and sugar together with electric mixer and beat until smooth. Add eggs one at a time. Beat in vanilla. Alternately add flour mixture and milk until all blended. Spread batter into a 9x 13 baking dish. Bake at 400 for 30 minutes or until a toothpick inserted into the middle comes out dry.